Dec. 14, 2022
In this Issue: Happy Holidays ● Lake Dems Post-Election Analysis with Pete Giangreco ● Dramatic Testimony From Highland Park Parade Victims at Hearing to Ban Assault Weapons ● Lake Dems Petition Signing Event Sunday ● In Case You Missed It ● Upcoming Events Below
News, Notes & Events will be taking a break after this issue so that we all may spend time celebrating this holiday season with family and friends. We hope you are able to do the same.  Watch for exciting changes to this publication beginning with the January 3, 2023 issue.
Wrap Up: Lake Dems' Post-Election Analysis with Pete Giangreco
| | |
| --- | --- |
| | On Monday evening, Lake Dems Post-Election Analysis meeting focused on Democratic successes in the 2022 election. The keynote speaker was Pete Giangreco, a national political consultant and a partner with The Strategy Group. He has helped lead strategy for significant major national campaigns, including both of Barack Obama's presidential runs, as well as the successful elections in 2022 of Senator Tammy Duckworth, Governor J.B Pritzker, and Michigan Governor Gretchen Whitmer, among others. |
"Long-term organizing is the way to win elections." Pete talked about the national scene including the State of Wisconsin's Supreme Court election in April which could change the ability of Democrats to win in our neighboring state. As is true in our Illinois Supreme Court races, the outcome could affect many issues including voter suppression efforts and unfair districting maps. 
Other speakers discussed how in Lake County, Democrats outperformed expectations countywide. Democrats got nearly 60% of the vote in Lake County — 10% more than the national average! JB Pritzker won 16 of our 18 townships and got at least 45% of the vote in the other two townships which have traditionally been very Republican Red. We are gaining in Lake County! Lake County voters are recognizing that Democrats are better on issues that matter.
Attendees also heard about what Lake County Democrats did to boost turnout, including sending a letter to 40,000 folks who would vote Democratic but don't always bother in the mid-terms. We also sent a mailing promoting our diverse countywide slate, advertised on social media, phone banked, text banked, handed out voter guides, and more. In all, in the 2022 cycle, Lake Dems raised more than $150,000 and contributed more than $90,000 in direct and in kind contributions to candidates. Another $50,000+ went to keeping our three offices open, our organization running, and infrastructure support to our township organizations. We also had a 24/7 voter hotline and a huge Election Protection Team to make sure everyone eligible to vote was allowed to vote. (Want to contribute to success in the next cycle? lakedems.org/contribute)
Two of our newly-elected candidates also spoke about the election. Lake County Clerk Anthony Vega noted that he knew this election cycle would be different when he attended a petition drive-through in Wauconda and cars kept streaming in for the whole event. In Wauconda! He also thanked Lake Dems as well as Kasia Kondracki and the Lake Villa Dems for increasing Democratic turnout in traditionally Republican Red precincts.
Nabeela Syed, State Representative-Elect in District 51, talked about overcoming disbelief in her district that a young Muslim could win and what it took to win her district. She thanked Lake Dems for our efforts and also praised Maria Peterson for running for State Senate in a district drawn for Republicans and coming within 393 votes of winning – significantly closer than almost everyone thought possible.
New volunteer Ellen Ewbank closed out the meeting by sharing how excited she was to get started prepping for the next election right away in the new year. If you want to volunteer for one of our committees, send an email to info@lakedems.org or click here to volunteer and tell us what you are interested in doing.
Dramatic Testimony From Highland Park Parade Victims at Hearing to Ban Assault Weapons
Following the Highland Park July 4th Mass Shooting, and in face of daily gun deaths across Illinois, the House Firearm Safety & Reform Working Group (with our own Lake County State Rep Bob Morgan as Chair) has proposed HB5855 to reduce gun violence.
The act seeks to:
  1) Ban assault weapons, large capacity magazines (10+), rapid-fire devices
  2) Create an Illinois State Police Anti-Gun Trafficking Strike Force
  3) Increase Firearms Owner's Identification (FOID) card eligibility age to 21
  4) Remove firearms from dangerous persons
Victims and witnesses of mass shootings in Illinois, including Highland Park Mayor Nancy Rotering, testified before Illinois state legislators Monday, December 12th, during a hearing on the Protect Illinois Communities Act, which would ban assault weapons in Illinois.
What can we do? Spread the word and help build momentum toward passage of this very important piece of legislation. Filling out witness slips is part of the legislative process and your chance to share your position on this bill. Click here to file a Witness Slip. Click here to read Highland Park Mayor Nancy Rotering's testimony to the Illinois General Assembly Judiciary Committee.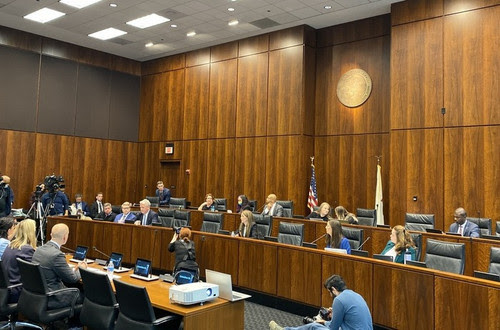 Illinois House Judiciary Committee members heard testimony Monday, Dec. 12, 2022, on the Protect Illinois Communities Act at the Bilandic Building in Chicago. Photo courtesy of POLITICO's Shia Kapos.
Lake Dems Petition Signing Event Sunday
The petition-filing period for most local candidates (village board, school board, library board, etc.) started on Monday, December 5th. On Sunday December 11th, the room at the Cook Park Library in Libertyville was packed as candidates took advantage of Lake Dems' offer to get their petitions notarized, reviewed by lawyers, and bound. Petitions for most local offices can be filed until Monday December 19th at 5 pm. We are very grateful to the notaries and lawyers who volunteered to help these candidates, as well as other volunteers who worked so hard to make the event go smoothly.
Candidates for local election have their petitions notarized by Notary Publics and reviewed by lawyers last Sunday in Libertyville.
How Do I Join Lake County Democrats?
Lake County Democrats is made up of people like you, people who are passionate about building better communities and a better world. We're a grassroots political organization, working with Democrats in all parts of Lake County – from Antioch to Highland Park, Libertyville to Waukegan, Barrington to Zion. Become a member online now or send a check payable to Lake County Democrats to P.O. Box 671, Lake Zurich, IL 60047. Questions? Contact info@lakedems.org.