Sept. 28, 2022
In this Issue: 
Early Voting Begins in Lake County September 29th ● Vote "Yes" for Workers' Rights ● Save the Date for a Special Lake Dems Event ● Meet Lake County Democrats Operations Director Mariel Boden ● Candidates Attend Events Across Lake County ● Governor JB Pritzker Supports Lake County Democrats ● Our Voter Services Committee Organizes Voter Registration Events ● Candidate's Forum: Sharon Smith-Terry ● Volunteer Spotlight ● Upcoming Events
Early Voting Begins in Lake County September 29th
A major reason for early voting is to encourage greater participation in the election process. People who travel for business, work long hours, or are otherwise inconvenienced by the hours the polls are open on Election Day may find it easier to vote early.
Starting on September 29th, all registered Lake County voters are eligible to vote early at the Lake County Courthouse in Waukegan. Beginning October 24th, more early voting sites will be open across the county. To vote early, unlike on Election Day, Lake County voters can use any site countywide regardless of where they live. Click here to find your Early Voting location.
Vote "Yes" for Workers' Rights
This November, workers' rights are on the ballot in Illinois. The Workers' Rights Amendment will appear first on the ballot as "Proposed Amendment to the 1970 Illinois Constitution." The amendment will change the Illinois Constitution to guarantee that every Illinoisan has the right to join together with other workers to negotiate for better pay, improved benefits, and safe working conditions.
NOTE:  This amendment requires a certain amount of "Yes" votes to pass. Failure to vote on this amendment may be considered a "No" vote.
From helping working people get raises, creating jobs for people without college degrees, protecting our first responders and stopping pay cuts that only make CEOs richer, the Workers' Rights Amendment helps build an economy that works for every Illinoisan.
What you'll see on your ballot (provided by the State Board of Elections):
PROPOSED AMENDMENT TO THE 1970 ILLINOIS CONSTITUTION
EXPLANATION OF AMENDMENT
Save the Date for a Special Lake Dems Event
What:  Lake County Democrats Annual Fundraiser
When: Thursday, October 20, 2022
Where: Location To Be Determined
The Lake County Democrats Annual Fundraiser is coming soon and we'd love to have you as a sponsor. If you are unable to be a sponsor, please save the date and come to support us and our efforts to elect Democrats. Individual tickets will be available soon.
Your help is critical before this important election in order to get Democrats voting in numbers that will overwhelm the opposition. Our significant outreach program to inconsistent voters who are likely Democrats may make all the difference.
Our rights are on the ballot — bodily autonomy, freedom from gun violence, workers' rights, and so much more. We won't go back. We can't go back, given what is at stake. Exciting keynote and featured speakers for this event will be announced soon. Help us make sure we elect Democrats who share our values.
 Please help Democrats win by becoming a "Shades of Blue" sponsor.
Meet Lake County Democrats Operations Director Mariel Boden
We are so glad that Mariel Boden, a North Barrington resident, joined us this summer as our Operations Director. A former Tenth Dems Intern (2016), she will be continuing on through the fall handling such things as sign and literature distribution, writing and proofreading, volunteer management, and logistics. Mariel is a hard worker and extraordinarily capable. Her flexibility and willingness to handle any task needed to help Lake County Democrats and our Democratic candidates win make her a pleasure to work with.
Candidates Attend Events Across Lake County
IL Democrats were on hand to support Lake County Treasurer Holly Kim's reelection at her Birthday BBQ event. From left were Cook County Commissioner Kevin Morrison, State Representative Theresa Mah and Alexi Giannoulias, candidate for IL Secretary of State. To Holly Kim's right is Illinois State Treasurer Michael Frerichs.
This well-attended North Chicago fundraising event was held in support of Senator Adriane Johnson, the first Black Illinois Senator from Lake County. Senator Johnson was appointed to the State Senate in 2020 by Lauren Beth Gash, Chair of the Lake County Democrats, to fill a vacancy in Illinois Senate District 30. She is now running in her first election campaign.
Community leaders are joined by (standing left to right), Illinois State Senator Adriane Johnson (30th) and Lake County Sheriff John Idleburg. Both are seeking reelection.
Governor JB Pritzker Supports Lake County Democrats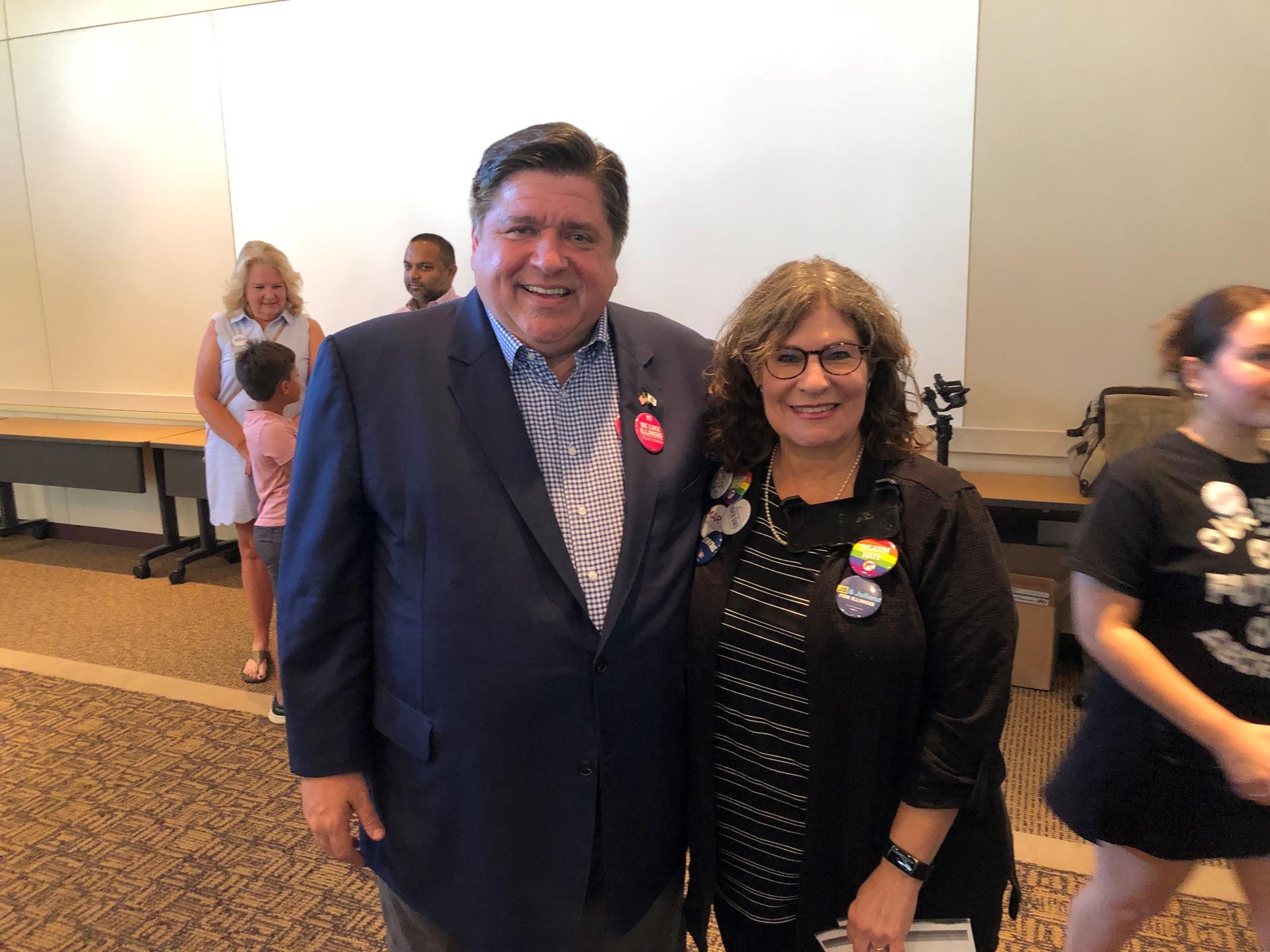 Illinois Governor JB Pritzker is joined by Lauren Beth Gash, Chair of the Lake County Democrats, for a rally and canvass launch at the Lake County Federation of Teachers in Gurnee.
Illinois Supreme Court Candidate Judge Elizabeth Rochford (from left), Chair of the Lake County Democrats Lauren Beth Gash, candidate for State Representative (62nd) Laura Faver Dias and candidate for State Senate (31st) Mary Edly-Allen spoke at the rally and then headed out to canvass with supporters.
Our Voter Services Committee Organizes Registration Events
Our Voter Services Committee is busy organizing voter registration events across Lake County. Over a two day period, dozens of our volunteer Deputy Voter Registrars registered new voters at all three College of Lake County campuses.
Candidates Forum
Sharon Smith-Terry
Candidate for Lake County Board District 5
As a member of the Lake County Board, I will push to improve Lake Villa infrastructure, increase the number of mental health facilities, and enhance environmental education and tree-planting programs. I will also collaborate with my fellow County Board members to ensure that our tax money is well spent.
I have been active in helping our community for many years as a trustee of the Round Lake District 116 Education Foundation and a board member of the Black Chamber of Commerce Lake County and Association of Minority Contractors of Lake County. I am also a proud member of the Alpha Kappa Alpha Sorority Inc., Lambda Nu Omega Graduate Chapter, and a Democratic Precinct Committeeperson.
Building strong communities means working collectively to achieve common goals. Understanding the needs and concerns of voters and listening to those issues that keep them up at night is my mission. Collaborating with local businesses, schools, and elected officials to realize the mission is my promise to my district.
Since 2015, I have been the executive director of various international healthcare societies with P&L, strategic planning, and board governance responsibilities. My decades of experience in executive management, marketing, business development, philanthropy, and operations will help me represent my district well on the Lake County Board.
Please check out my website, Friends of Sharon Smith-Terry to learn more.
Volunteer Spotlight 
Lake Dems is grateful for our many active volunteers:
Newly retired, Gwenn Goo Yates quickly reached out to Lake County Democrats and asked how she could help. She immediately began showing up to volunteer at many events including the Lake Dems booths at the Black Lives Matter Expo in Waukegan and Buffalo Grove Days. She has already attended Lake Dems Precinct Committeeperson Orientation and our Votebuilder Basics training session. We're so grateful to our many volunteers. She's an excellent example of the type of volunteer we value.
Upcoming Events
Events below are taken from the complete list of Upcoming Events at LakeDems.org/events. Click here to submit your event for consideration.
WEDNESDAY, SEPT. 28
Campaign Lit Bundling Pizza Party. 4-8pm, Highland Park. More.
Reception for Daniel Didech, Nabeela Syed, Sara Knizhnik and Marah Altenberg. 5-7pm, Long Grove. Supporting the reelection of State Rep. Daniel Didech (59th), State Rep. candidate Nabeela Syed (51st), Lake County Board candidate Sara Knizhnik (District 18) and the reelection of Lake County Board Member Marah Altenberg (District 19). More.
Postcards for Lake County Clerk Candidate Anthony Vega. 6-8pm, Mundelein. More.
Buckthorn Removal Best Practices from Lake County Forest Preserve Commissioners Sandy Hart and Paras Parekh. 6:30pm, Lake Bluff. More. 
THURSDAY, SEPT. 29
Lake County Countywide Slate Joint Fundraiser. 6:30-8pm, Buffalo Grove. State Representatives Bob Morgan and Daniel Didech host a joint fundraiser in support of Sheriff John Idleburg, Superintendent of Schools Dr. Michael Karner, Treasurer Holly Kim and County Clerk candidate Anthony Vega. More.
Warren Township Democrats September Meeting. 7pm, Gurnee. Guest speaker Laura Faver Dias, candidate for State Rep. (District 62). More.
FRIDAY, SEPT. 30
Meet and Greet with Allena Barbato (Candidate for IL Senate District 32). 5-7pm, Lake Villa. More.
Team Joyce Mason (State Representative District 61) Fall Open House. 5-7pm, Gurnee. More.
Smith Nature Symposium Awards. 5:30-9:30pm, North Chicago. More.
SATURDAY, OCT. 1
Early Voting Day of Action for Moraine Dems. 10am-4pm, Highland Park. More.
TUESDAY, OCT. 4
Deputy Voter Registrar Training in Waukegan. 3pm, Waukegan. More.
Mary Edly-Allen (Candidate for IL Senate District 31) Fall Reception. 5:30-7:30pm, Grayslake. More.
How Do I Join Lake County Democrats?
Lake County Democrats is made up of people like you, people who are passionate about building better communities and a better world. We're a grassroots political organization, working with Democrats in all parts of Lake County – from Antioch to Highland Park, Libertyville to Waukegan, Barrington to Zion. Become a member online now or send a check payable to Lake County Democrats to P.O. Box 671, Lake Zurich, IL 60047. Questions? Contact info@lakedems.org.