Aug. 10, 2022
In this Issue: Request Your November Election Ballot Now ● Inflation Reduction Act Now Moves to House ● Democrats Out in Force at Community Days ● Tax Cheat: Bankruptcy Filing Reveals Debts of $300,000+ in Taxes for Republican Candidate for IL-10 ● EPA Reports on Ethylene Oxide Risks ● Candidate Q&A: Judge Rochford ● Volunteer Spotlight ● In Case You Missed It ● Upcoming Events
Request Your November Election Ballot Now
Voting by mail is the easiest way to make sure you participate in the November election. Even though Election Day isn't until November 8th, you can go online to the Lake County Clerk's website to request your mail-in ballot this week.
Go to the Lake County General Election page. Under the heading "Voting Options," click the link, "Request a ballot (Aug 11 – Nov 3) or track your request." This will take you to the Voter Power page. Filling out the brief form here will take you to the page linking to the simple online application. A banner at that site says, "The first day to request a Ballot by Mail for the November 8th General Election is August 10th."
Whether the first day is the 10th (which is what the Illinois State Board of Elections website says) or the 11th (on the Republican Lake County Clerk's website), you definitely can request your ballot this week.
Your ballot won't be mailed to you before October, but as soon as you've made the online request, you can rest assured that you'll be set to vote in the November 8th Election, whether you mail in your ballot or decide to turn it in and vote in person.
Inflation Reduction Act Now Moves to House
Democrats Out in Force at Community Days
Candidates including Holly Kim, John Idleburg, Brad Schneider, and Anthony Vega joined the Community Days celebration in North Chicago.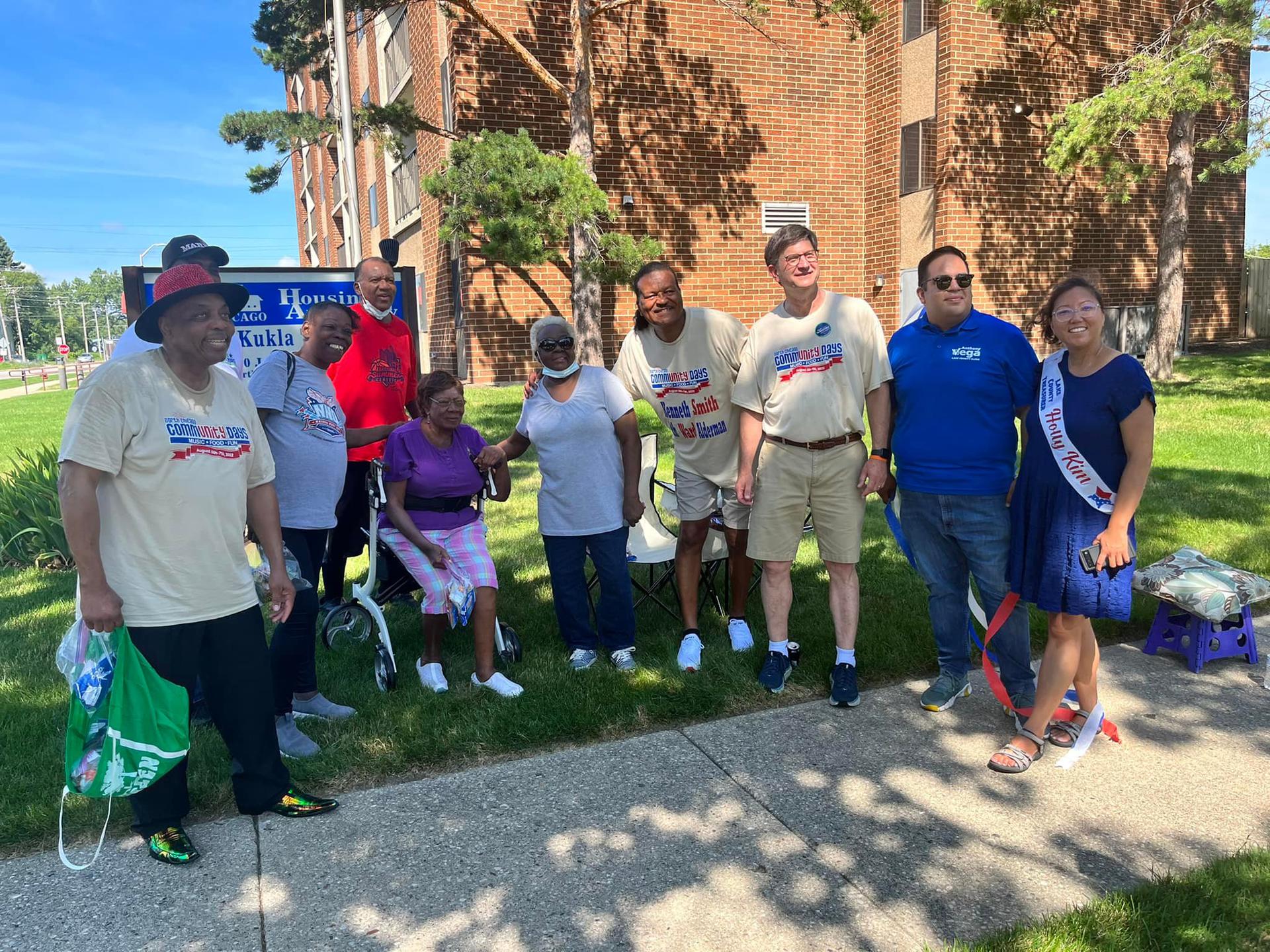 Tax Cheat: Bankruptcy Filing Reveals Debts of $300,000+ in Taxes for Republican Candidate for IL-10
Voters have learned that Republican congressional candidate Joe Severino owes hundreds of thousands to the Internal Revenue Service (IRS) and Illinois Department of Revenue. A stunning report from Crain's Business Chicago revealed that Severino has personally filed for bankruptcy, in part due to his failure to pay $353,342 in taxes, leaving law-abiding Americans to pick up the tab.
Critical excerpts:
"The Republican candidate for Congress in the north suburban 10th District has filed for bankruptcy as he seeks to oust Democratic incumbent Brad Schneider."
"However, the filing also indicated that liens against him included $353,342 from the IRS and $41,377 from the Illinois Department of Revenue."
"[Severino's reorganization plan] said he had been offered a loan from a firm named Legalist DIP GP LLC, and indicated that he had been offered a $340,000-a-year job with Wisconsin Phone Charging."
EPA Reports on Ethylene Oxide Risks 
Volunteer Spotlight
Lake Dems is grateful for our many active volunteers, including the following:
When Alex Sulzer moved to Lincolnshire from Colorado, one of the first things he did was find a Democratic group to volunteer with. Lucky for Lake Dems, he found us. Alex helps with numerous projects in our offices, represents us at parades, and doesn't hesitate to drive across Lake County if a candidate needs to get something from one place to another. Alex is multi-talented and willing to help out wherever needed—always with a smile. Sorry, Colorado, you can't have him back.
Candidate Q&A: Judge Elizabeth Rochford
Why are you running for the Illinois Supreme Court?
I am running for the Illinois Supreme Court because I believe the courts should serve the people and provide equal access to justice – regardless of personal circumstance – and this must be the priority for the entire Illinois courts. Throughout my 35 years as an attorney and 10 years as a judge, I have consistently been witness to people struggling to navigate a complicated and intimidating legal system.
As an attorney, I took the initiative of creating the first of its kind in Lake County, Guardianship Help Desk to assist people in establishing guardianships for minor children. As a judge I took the lead on developing a family law courtroom dedicated to serving self-represented litigants [SRLs], who initiate 50 percent of case filings. We opened our doors in 2018 with resources, signage, processes, and forms designed to meet the needs of SRLs and the courtroom now serves as a model for other jurisdictions.
The Illinois Supreme Court, through its legal decisions, rules, and its supervisory authority over all state courts, has a tremendous influence on Illinois law and on how the court system actually works.  We need justices who understand how courthouses operate.
Experience in the courts, leadership in the legal community, and service in courts and community are all essential to serving on our state's highest court. The resume must match the position, and mine does.
How can people help?
The most effective campaign tool is a personal recommendation for a candidate. So please tell your friends and family that live in District 2, which comprises Lake, McHenry, Kane, Kendall, and DeKalb Counties.  Visit my website, Judge Elizabeth Rochford for Illinois Supreme Court, and learn about other ways to help.
Upcoming Events
Events below are taken from the complete list of Upcoming Events at LakeDems.org/events. Click here to submit your event for consideration.
WEDNESDAY, AUG. 10
American Rescue Plan Act (ARPA) Community Input Night. 5-7pm, Round Lake Beach. More.
SOLD OUT—Personal PAC Highland Park Garden Party. 5pm, Highland Park. More.
Pride Celebration with Lake County Clerk Candidate Anthony Vega. 6-8pm, Chicago. More.
SATURDAY, AUG. 13
Brad Schneider's "Congress on Your Corner" in Northbrook. 10am. More.
Maria Peterson Campaign Office Grand Opening and Day of Action. 10am-noon, Barrington. More.
We Won't Go Back Rally for Reproductive Rights. 11am-1pm, Algonquin. More.
Lake Villa Dems Day of Action. 4-6:30pm, Lake Villa. Walking for Candidates Anthony Vega, Holly Kim, John Idleburg, and Dr. Michael Karner. More.
Heart of the City Gala. 6-10pm, Waukegan. The organization uses soccer as a way to teach youth essential life skills, train them as leaders and mentors, and connect them with postsecondary opportunities. More.
SUNDAY, AUG. 14
Wauconda Township Democrats Day of Action. 1-3pm, Wauconda. More.
Reception for Nabeela Syed with Speaker of the Illinois House Emanuel "Chris" Welch. 1-3pm, Palatine. More.
Optimist Club of Deerfield Ice Cream Social. 2-4pm, Deerfield. More.
MONDAY, AUG. 15
Brad Schneider Campaign Kickoff. 6pm, Northbrook. More.
TUESDAY, AUG. 16
Brad Schneider's "Congress on Your Corner" in Fox Lake. 6pm. More.
THURSDAY, AUG. 18
Brad Schneider's "Congress on Your Corner" in Grayslake. 6pm. More.
Fremont Township Democrats August Meeting. 6pm, Mundelein. More.
How Do I Join Lake County Democrats?
Lake County Democrats is made up of people like you, people who are passionate about building better communities and a better world. We're a grassroots political organization, working with Democrats in all parts of Lake County – from Antioch to Highland Park, Libertyville to Waukegan, Barrington to Zion. Become a member online now or send a check payable to Lake County Democrats to P.O. Box 671, Lake Zurich, IL 60047. Questions? Contact info@lakedems.org.